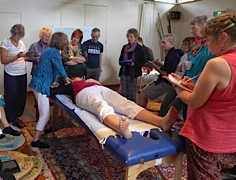 Classes

Whether you want to learn Ortho-Bionomy as a self-care tool, for self development, or to begin to practice it with your own clients, Ortho-Bionomy on the Fraser Coast has a range of classes to suit your goal.
At the end of an Ortho-Bionomy treatment one or two self-care practices/exercises are given to a client to assist the body in integrating the structural changes that happen during the session. Movements shown, and practiced, in a self-care class are built around these many self-care methods.
Self-care exercises are very simple and gentle, so suitable for all body capacities. Explanations for the different movements are given throughout the class.
Attendees at a self-care class are encouraged to notice what is structurally occuring in their body. This allows them to gain a sense of their body and what it most needs. This fosters mindfulness/embodiment. In this world of increasingly expensive medical procedures, many with dangerous side effects, mindfulness has now been well documented as a safe, effective method of optimising health.
Self-care techniques help the body make permanent structural and functional changes in a very comfortable way. After a self-care class people are left with a deep sense of relaxation, as the nervous system shifts from "fight or flight" mode to "rest and restore" mode.
Each self-care class is different, meeting the class needs on the day. So regular attendees will have a different experience each time.
In 2019 self care classes will be held fortnightly, alternating Thursday evenings from 5.30pm till 7pm, and Saturday mornings from 10:30am till 12pm.
Please phone the clinic on 41241607, or follow the "Ortho-Bionomy on the Fraser Coast" Facebook page for details about the next self care class group. Bookings are essential. Self-care class numbers are limited to (8) attendees.
People choose to learn Ortho-Bionomy for a range of reasons:
Some want to learn how to release pain and tension to help themselves or family and friends
Some want to add these gentle manual techniques to their existing counselling, massage, physiotherapy or other healing practice
Others want to complete the entire 500 hour course to qualify as Ortho-Bionomy Practitioners.
Regardless of their reasons for taking these classes, many people find that the added 'bonus' is the evolvement of their relationship with their own body, creating possibilities for change and wellbeing that they haven't experienced before.
Ortho-Bionomy classes offer a unique approach to learning, that provides a trully holistic experience. Rather than lecture-style, students learn the philosophy, principles and techniques of Ortho-Bionomy through discussion, demonstration and practice.
Students work in pairs and practice the techniques so that each person has the opportunity to experience Ortho-Bionomy as both "client" and "practitioner.
They learn ways to work that provide benefits for the "practitioner's" body as much as the "client's."
Ortho-Bionomy classes run over 2-3 days.
From the very first class, Ortho-Bionomy is easily integrated with other modalities. Join a class and learn how.
From November 2018 classes will be held at Ortho-Bionomy on The Fraser Coast.
Ortho-Bionomy for Pelvic Stabilisation, 16th and 17th March, 2019.
The pelvis, and its stability, are critical to postural alignment and pelvic organ function. Protocols for assessment and advanced positional release techniques, along with self care practices to maintain that balance, will be presented and practiced.
Being a more advanced class a Phase 4/Fundamentals class is a pre-requisite for attending this class.
Phase 4: The Fundamentals Class, 23rd and 24th March, 2019.
This foundation class covers the history, philosophy and concepts of Ortho-Bionomy and provides an overview and practice of the basic release techniques and anatomy for each major joint in the body. No pre-requisites are required.
Students can begin to effectively apply Ortho-Bionomy methods after this class.
Call 41241607 or email orthobionomyonthefrasercoast@gmail.com to register your interest.
---